GROW YOUR BUSINESS WITH US
Stralia Sports.Com Pty Ltd is a publishing and multi-media company that produces many fantastic sports publications and products.
Our name and products are synonymous with excellence. We also produce Internet TV programs that discuss both football and sport, plus we LIVE BROADCAST, LIVE STREAM and VIDEO tape both sporting and football matches, throughout Adelaide and South Australia.
With a current subscribers base of more than 155,000 individual addresses and growing substantially with new subscribers every week, the reach of our publications and products provides a diverse target market for your marketing campaigns.

Internet TV Shows on football and sport, pioneering South Australia
South Australian Footballer TV Network on You-Tube
The South Australian Cricketer
Live calling, Live broadcasting and Live Streaming of sporting and football matches across South Australia
Taking advantage of our multiple social media platforms, combined with our strong readership and quality content – advertising with one of South Australia's best-known agencies, has never been more cost effective.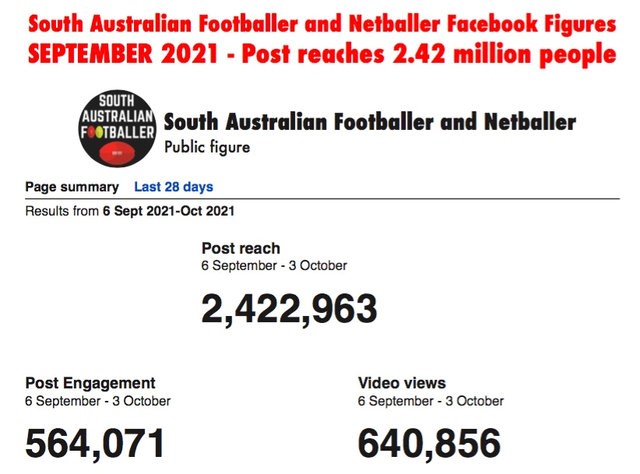 Thank you to the SA FOOTBALLER for the great advertising in your magazines for my business PETS ON WHEELS throughout the 2021 football season.

I had many new customers looking us up and liking our Facebook page and a good many walk in new customers because of my advertising in your magazines.

Getting new business and customers from advertising is what's so wonderful.

The price is very reasonable compared to other advertising outlets and the customer service in setting up our ad and following through to the magazine was great.

I have been very impressed with the way they've kept in touch throughout the set up process and the follow up for next years magazine as well.
I highly recommend the SA FOOTBALLER and will definitely be placing my advert again in 2022. Well done guys and keep up the great work.
Hi to the SA Footballer team

I know it's early for next season. But I would like to re-advertise with the SA Footballer in 2022.

I am looking at upgrading to either the half or full page advert, as I am very happy with the results from this years advertising.

I'd like to go from my quarter page advert from this year, to either a half page advert or full page advert in 2022.

If you could please send through your prices for next season, when the new packages become available.
Hi South Australian Footballer,

I just wanted to say a huge thank-you for posting my ad up on your Facebook page in the off-season and the adverts you ran in the SA Footballer Magazine during 2021. We again will be taking part in advertising during the 2022 season.

I've just had a key contact from a local football club reach out and I am looking at facilitating ongoing group training for them. Plus we've had other members of the public come in and have had many phone calls to discuss us at D8training helping them into the future.

This advertising has been invaluable and way more beneficial than a single client reaching out to me.

I have played around with direct Facebook advertising in the past and I have to say that so far I have had way more success with referrals from your advertising.

Thank you again
Want to know more?
Ring the Managing Director – Luke Hosie on 0404 846 412 and he will be delighted to assist, with any questions you may have.