AMATEURS – DIVISION 1
By Dylan Smith
St Peters OC v Brighton
Brighton have made it five wins from as many games after recording an outstanding 27-point win over St Peters at Caterer Oval. The Bombers signalled their intentions from  the outset, attacking the ball and the contest with ferocious intent, almost scaring off any St Peters player in their way. Brighton kept the home side scoreless, while they piled on six goals in a frenetic opening term. To SPOCs credit, they were much more competitive after the first break, but couldn't chase down Brighton's early ascendency. Once again, James McLeay was a handful for the opposition's defence, booting four majors, with Luke Mitchell kicking three. For the visitors, John McPherson slotted four goals, with Jarrod Miller and 
To continued reading please click here to download.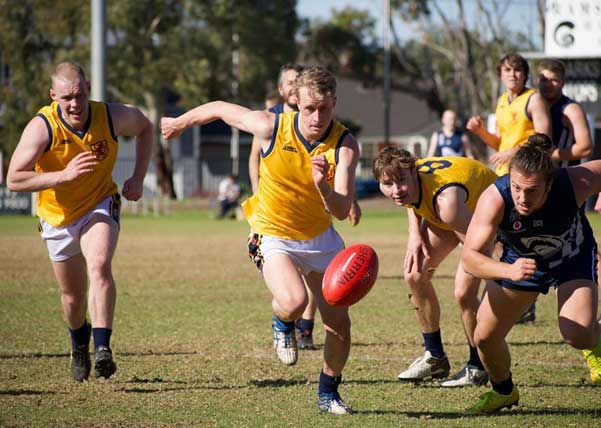 AMATEURS – DIVISION 2
By Justin Gerschwitz
Tea Tree Gully 17.10-112 defeated PHOS Camden 11.20-86 by 26 points at Camden Oval
Tea Tree Gully came away with a 26-point come from behind victory to defeat PHOS Camden away from home. Tea Tree Gully trailed most of the match but took over when it mattered most to kick away in a last quarter demolition. PHOS held a 14-point lead going into the last term with only their poor goalkicking keeping Tea Tree Gully in it. Failing to capitalize on the scoreboard ended up costing PHOS dearly as Tea Tree Gully made the most of their inside 50's. Trent Melville was impressive with a five-goal haul for the winning side while Ryan Spittle and Chad Schoenmakers each contributed three. Spittle's dominance was also enough to give him best-on-ground honors in a classy display.
Henley 27.11-173 defeated Scotch OC 4.12-36 by 137 points at Henley Memorial Oval
Henley have pulled off their most emphatic win of the season to date with a crushing 137-point defeat of Scotch OC. From the first bounce Henley were on and quickly got out to 47-point lead at
To continued reading please click here to download.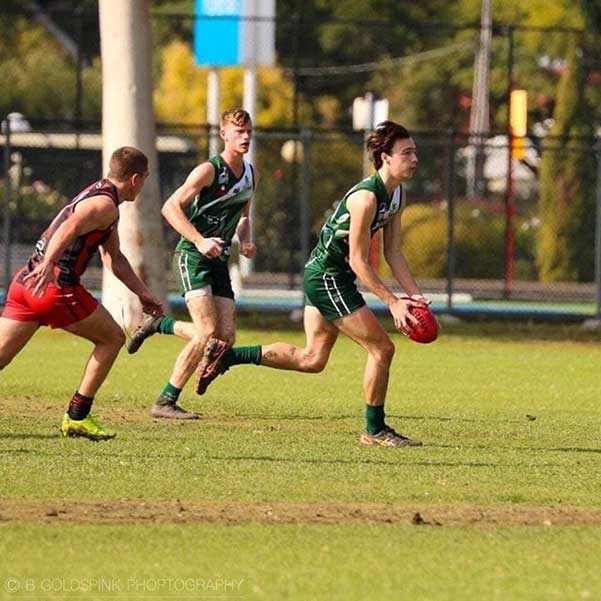 AMATEURS – DIVISION 3
By Ben Lennon
Flinders Park 13.13 def Westminster OS 8.5 53
Flinders Park seem to have turned a corner this season and have recorded back to back wins, defeating Westminster quite comfortably at home. Luke Trenorden slotted in up forward, suiting up for the first time this season. He managed to help himself to four goals whilst also opening up the forward line for other players such as Cam Miller and James Schwarz to hit the scoreboard. Chad Comitogianni was best on ground for the home side as he collected plenty of disposals whilst also registering a goal. Westminster remained in touch throughout the game and fought hard to be within 10 points at the final break. Aaron Fielke was their best player, kicking three goals, but it was not enough as the Reds ran riot in the final term, booting five goals to Westminsters one. Those at Flinders Park will be very happy with the result as it is definitely one they needed to win in order to 
To continued reading please click here to download.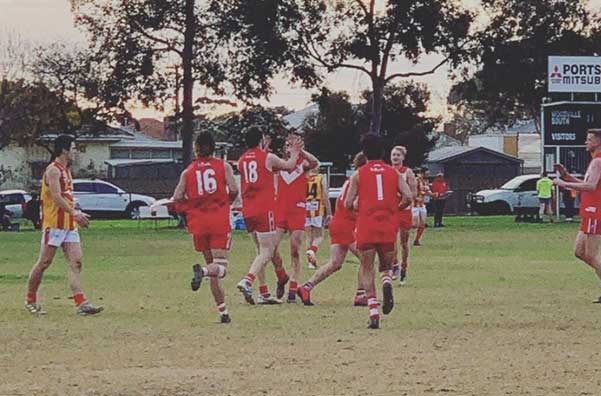 AMATEURS – DIVISION 4
By Liam Wormald
Kilburn v Mitcham
Mitcham have defeated Kilburn by one-point at Blair Athol Reserve on Saturday. The win sees the Hawks move into fifth position, with just percentage separating them and the fourth-placed Panthers. After a disappointing loss in round four, the Magpies started the game brightly, with a 12-point lead at half-time, which grew out to 21-points at the final break. In a tight last term, the Hawks mounted their comeback and were able to hold on against a spirited Magpies team. Hawks forward Maxwell Smyth again demonstrated his goalkicking prowess, with four majors, while Alexander Gillett kicked two. The Magpies spread of goalkickers was a big positive to come out of the game despite the defeat, with Todd Peirce and Darren Francis both kicking two goals. Oliver Pride and Chris Gregory were instrumental in their 
To continued reading please click here to download.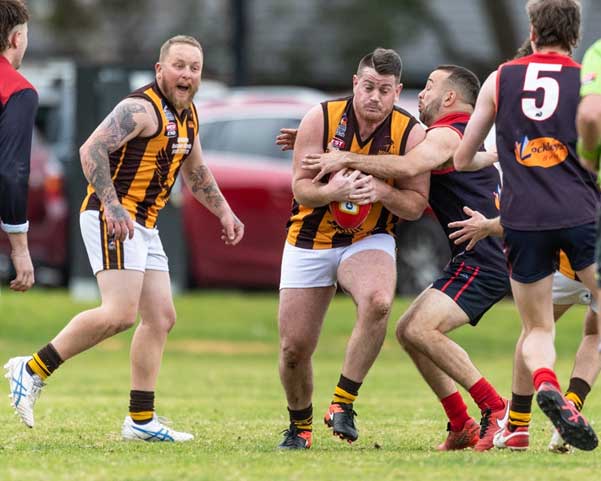 AMATEURS – DIVISION 5
By Jakob Matheson
Lockleys vs. Rosewater 
The Demons came out firing from the first bounce, defeating Rosewater 21.14 140 to 5.7 37 and securing a dominate 103-point victory on the road at Eric Sutton Oval. Lockleys kicked the first 7 goals of the match and never looked back as they got out to a 46 point lead at the first break all the while leaving the home side without a score. Rosewater could only manage 1 goal up to half-time with Lockleys extending their lead to a very convincing 65-points at the long break. After half-time, Lockleys piled on a further 10 goals and for the fifth consecutive week managed 20 or more goals in a game.  Matthew McDonough and Henry Johnson continued their excellent form kicking five and 
To continued reading please click here to download.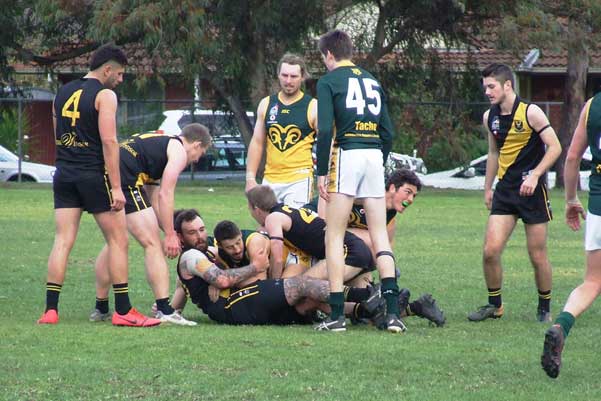 AMATEURS – DIVISION 6
By Lachy Jones
Ingle Farm 14.11 (95) def by Mawson Lakes 19.8 (122)
Accurate kicking, and a monster second term, saw Mawson Lakes record their first win of the year on the road against the struggling Bulldogs on Saturday. Ingle Farm won the first quarter, and even won the second half, but failed to win the game in a contest that would be decided by a twenty minutes burst by the visitors. That twenty-minute burst – an 8.2 to 1.2 quarter – ultimately decided Ingle Farm's fate, one that sees them fall even further on the division 6 ladder to ninth spot, only sitting ahead of the winless Para Hills. Jarrah Wallace-Gravett was best afield for Mawson Lakes, who have finally found a spark to 
To continued reading please click here to download.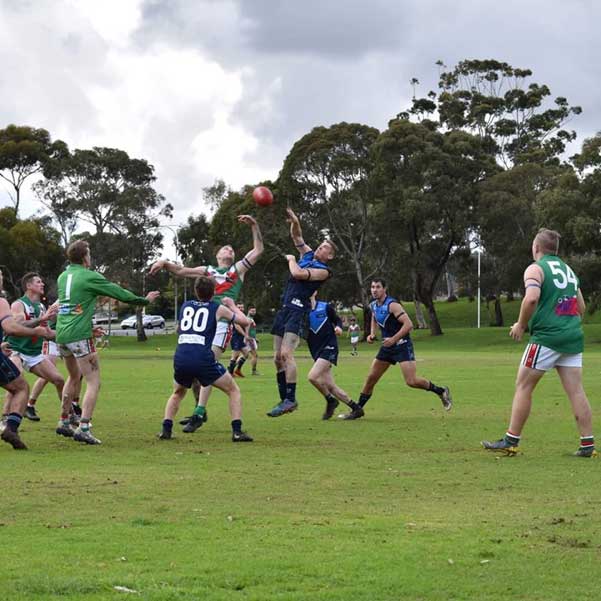 AMATEURS – DIVISION 7
By Jordan Sennett Perez
Flinders University 26.15-171 defeated Central United 8.6-54
When: Saturday August 1st 2:15pm 
Where: Flinders Uni Sporting Ground, Bedford Park 
PREVIEW:
A massive game for both sides with Central United destined to take home the wooden spoon this season as ever since their solitary win at the start of the season have crumbled massively. For Flinders, even though they struggled last week against the ladder leaders they have had some solid wins so far this season. Against Central United who have no doubt hit rock bottom they can really flex their muscles and show that there a better side than the one that got thumped by Brahma Lodge. If United's supporters aren't livid with their team already, then they wouldn't want another thumping by last year's wooden spooners (despite Flinders' improvement this year). They simply have to be competitive in this and can't let another team walk all over them like it's a training drill. Flinders just 
To continued reading please click here to download.