Another season of Mediocrity coming for the Blues?
Amato's 5th Quarter by Daniel Emilio Amato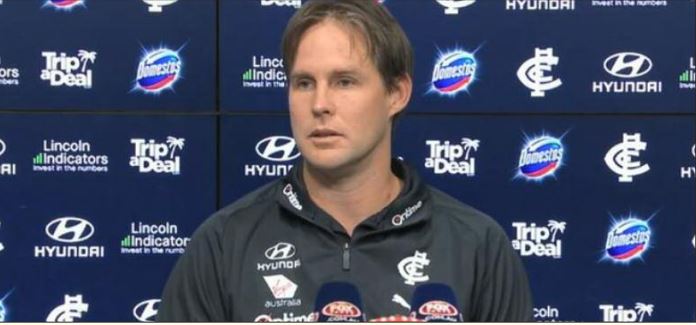 Every pre-season we seem to hear the same thing on repeat, the most boring of broken records.
'Carlton were just a little off in some key areas last season which cost them important games.'
'If they didn't lose those two or three close games they would have made the finals.'
'If Player A and Player B got a good run with injury, that would have been the difference.'
'This is definitely the year it all comes together.'
Six rounds in, they are once again in that familiar average 13th position with a disappointing 2-4 start, having won against fellow-mediocre and inconsistent Gold Coast and Fremantle but failing against premiership-contenders Richmond, Port Adelaide and Brisbane as well as arch-rival Collingwood. With games against the undefeated Western Bulldogs and Melbourne in the coming weeks, it is likely Carlton will be facing a 2-6 figure, possibly even 2-7 with a questionable game against Essendon also coming.
Their effort could not be questioned, but the execution is poor majority of the time. Despite being ranked sixth for Inside 50s (336 average), and having 57 against Port Adelaide in round 5, producing only nine goals. Rushed kicks, fundamental skill errors and bombing high, floating balls to outnumbered targets are killing them week after week.
With so many first-round draft picks on their list; Charlie Curnow, Harry McKay, Jack Silvagni (Father-Son), Jacob Weitering, Paddy Dow, Sam Petrevski-Seton and Sam Walsh, many of these names with multiple pre-seasons under their belt, the time would surely have arrived. But once again, as often is the case with Carlton, they continue with the 'give them time' excuses.
Currently sit third in the AFL for clearances, they have performed 'okay' in patches, but hardly enough to be considered genuine finals contenders. Granted, they haven't had the greatest luck on the injury front, with best-22 members Charlie Curnow, Jack Martin, Nic Newman and Zac Fisher out for the foreseeable future, but every club has injuries and it seems once Carlton has one player from their best side out, they see this as an excuse for not performing. Too much midfield pressure is placed on Patrick Cripps, who while still collecting his fair share of the football (26 possessions average), he does not seem as threatening as he has in previous years.
While the young brigade do perform as well as they can, their experienced heads are simply either past their prime or just not performing in general. Marc Murphy is not playing well enough to remain in the team, at the ripe age of 33 the best has clearly past him. He averages 14 possessions and has little influence on the result. Levi Casboult has played every game as Carlton's go-to man in the forward line, yet has only scored four goals at a woeful 36% accuracy from eight possessions (average). He doesn't even look threatening.
Carlton are not exactly terrible, their best 22 in theory looks a damaging side capable of performing consistently, but they are far from elite. They simply do not control the ball and use it efficiently. This is proven in the three major key performance stats, which never lie.
Average Possessions: 9th
Average Goals: 11th
Average Marks: 8th
If things don't change soon, David Teague could be in a spot of bother sooner than anyone expected.