Goodwood Saints and Adelaide University cause boil overs and action hot's up as finals places at a premium
By Dylan Smith
DIVISION 1
Brighton Bombers v Goodwood Saints
The Goodwood Saints have made it three wins on the trot, recording an emphatic 41-point win over the previously undefeated Brighton Bombers on the weekend. The Saints led at every break, and looked every-bit the premiership contenders that they were labelled at the start of the season. For the Bombers, they were simply outworked and played, and perhaps a timely reminder that they need to be on-top of their game against every opponent in this division. Jarrod Miller was the only multiple goal kicker for the home side, booting four majors. For the Saints, Frazer Goodes and Jacob Hughes kicked four each, while Angus Clarke slotted three majors in his second A-grade game for the year. Nigel Osborn's terrific month of footy has continued, with a best on ground performance for the Bombers, while Jack Chalmers and Jarrod Miller were consistent contributors. For the visitors, Goodes and Hughes with eight goals between them were named best on ground and second
To continued reading please click here to download.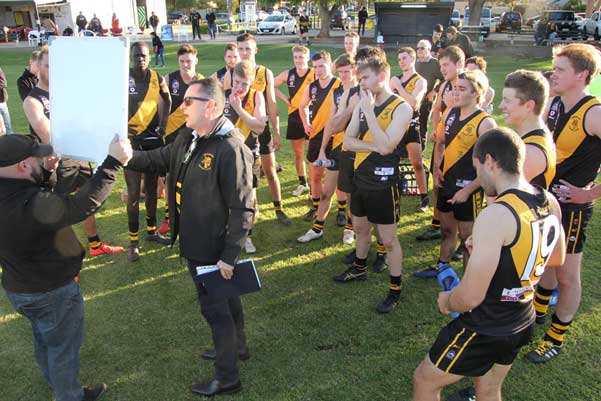 Broadview are flying along as are the Sharks. But the Wolves are beginning to circle out at Pertaringa
By Justin Gerschwitz
DIVISION 2
Broadview 10.12-72 defeated Sacred Heart OC 10.9-69 by three points at Broadview Oval
Broadview fought back in impressive fashion to claim an important win against a quality Sacred Heart side. Down for much of the match, Broadview fought back in the second half to erase a 19-point half-time deficit and seal a nail-biting three-point victory. Kobi Russell was dominant in a best-on-ground effort which included a three-goal haul for Broadview. Thomas Rogers and Hamish Ralph also contributed with two goals apiece. Patrick McCarthy was amongst the goal scorers for Sacred Heart OC with three goals, but it was not enough as the Hearts were outplayed when it mattered most.
Old Ignatians 13.15-93 defeated PHOS Camden 14.5-89 by four points at Karen Rolton Oval
Old Ignatians came away with one of their most impressive wins of the season in a tight contest at home against PHOS Camden. PHOS had control at half-time as they held a 20-point lead but Old
To continued reading please click here to download.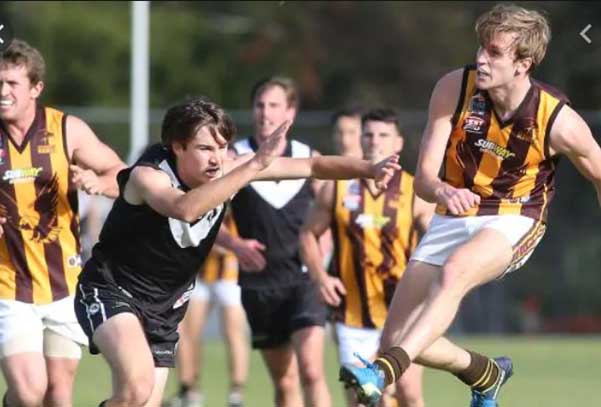 Modbury are coming home with a rush and could prove the team to beat. Golden Grove and Havens will be toughest to beat
By Ben Lennon
DIVISION 3
CBC Old Collegians 8.7 55 def by Golden Grove 21.12 138
The week off did not bring Golden Groves red hot from to a halt as they ran out convincing victors over CBC. The home side were aided by the four goals of forward Michael Gabrielli but were not able to stop the scoring power of Grove. The Kookaburras had over 10 goalscorers but Ben Bamford was still able to help himself to 7 majors. Young Jack Owens was best afield for the Dolphins and Brad Johansen was impressive again, finding himself in the best players repeatedly in their first season in division three. For Golden Grove, Pitman made it back to back appearances in the best players and is in exceptional form. Connor Dodd was best on ground with a goal alongside an impressive overall performance. You couldn't ask to be in a better position. They sit on top of the ladder having not dropped a game thus far. The real test will come in the finals which they will certainly play a large part in but for now, they can sleep easy knowing they are currently a cut above the rest in the division.
To continued reading please click here to download.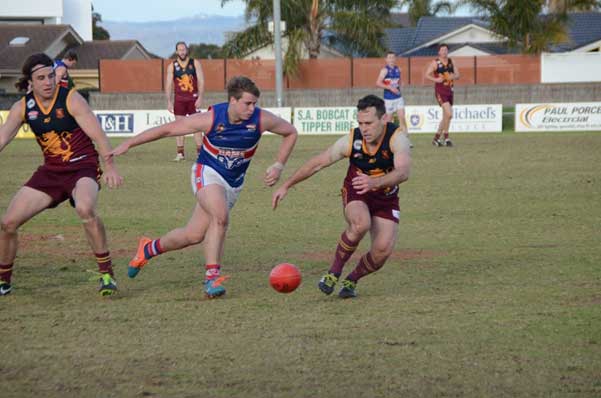 Pembroke are sitting on top. But watch out for SMOSH West Lakes who will be the team to beat in September
By Daniel Emilio Amato
DIVISION 4
Kilburn v Morphettville Park
Morphettville Park have recorded their third victory for the season, after they beat Kilburn by 22-points at Blair Athol Reserve. In a low scoring first term, both teams struggled to find any synergy in attack, with the Roos holding a one-point lead at quarter-time. Unfortunately for the Magpies, due to inaccurate goalkicking they failed to score a goal in the second and third quarters, with the Roos prevailing in the final term to secure a crucial win. Matt Barrie was active in attack, with three majors, while Byron Murphy kicked two for the Roos. The Magpies failed to have a multiple goal scorer, with Miles Brooks, Gill, Jackson Ryan and Galbraith all kicking one. The in-form Aaron Rainey racked up plenty of possessions, along with Sam Walker for the Roos, while Brent Mclean and Todd Peirce showed spirit for the struggling Magpies.
Pembroke OS v Gepps CrossPembroke OS have once again avoided defeat by the smallest of margins, after they beat Gepps Cross by one-point at Haslam oval. After leading by seven points at half-time, the Rams were able to stretch their lead out to 16-points heading into the final quarter. Like they To continued reading please click here to download.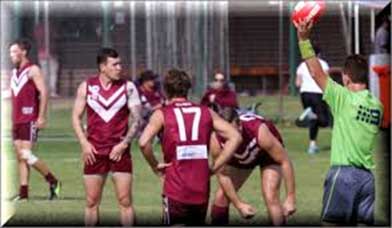 Lockleys for the A and B grade double. We can't see anyone beating the Demons who are taking all before them
By Jakob Matheson
DIVISION 5
West Croydon vs. Kenilworth
Eighth-placed West Croydon hosted third-placed Kenilworth at Fawk Reserve and after a slow start, Kenilworth secured the victory in a high scoring encounter 20.19 139 to 15.14 104 winning by 35 points. The home side started strongly and lead by 15 points at the quarter-time break and it seemed like an upset was on the cards when the Hawks kicked the first four goals of the second term. That was until the Kookaburras finally got going and kicked the next six goals of the quarter to take a two point lead into the long break. Both sides traded goals in the third quarter as the two side kicked six goals each, with the Kookaburras turning for home with a slender four point lead. Kenilworth led by Lachlan Ritcher, Isisah Place (four goals), Myles Krakouer (four goals) and Jordan Wilson King showed their class in the final quarter, as the visitors kick 6.7 to power home to a 35 point victory. For the Hawks, Tristan Harding, Luke Francis, Reece Johnston (3 goals) and Brandon Sumner (3 goals) were among their best. The Hawks now fall to 2-4 having lost their last four games. Kenilworth with the victory consolidate their spot in the top three with three rounds left to play.
To continued reading please click here to download.



Brahma Lodge appears to have the premiership in the bag. Perhaps only Lutheran can beat the Tigers
By Jordan Sennett Perez
DIVISION 6
Flinders University 9.17-71 defeated by O'Sullivan Beach Lonsdale 11.6-72
When: Saturday August 8th 2:15pm
Where: Flinders Uni Sporting Ground, Bedford Park
PREVIEW:
In one of the more intriguing games of the round it's Flinders University facing off against O'Sullivan Beach Lonsdale on Saturday afternoon. Flinders had a huge win last week, thrashing a lowly Central United and stamping their authority, a far cry from last year's bottom placed finish. They've improved this year by a lot compared to last season and there is still plenty of improvement left. Flinders have struggled against the top teams this year but have performed better and won games against teams lower than them and this game presents another great challenge and opportunity to continue that improvement. O'Sullivan Beach are consistently inconsistent this season, performing well for a quarter and a half here and a half a quarter there which hasn't boded too well for them so far this year. They're just surviving in the bottom half of the ladder and need to show more competitiveness and effort if there any of not only staying in the game but even winning it. Playing patches of games will not get them anywhere, they've shown in glimpses this season that they are capable of playing good footy. They must show it this Saturday afternoon, but Flinders are just look the slightly better team here.
Prediction: Flinders University by 11 points.
To continued reading please click here to download.