Division 1
By Michelle Wakim
Golden Grove v Morphettville Park
Morphettville Park met Golden Grove this weekend in a game which secured Morphies a proud third spot status on the ladder. Morphies have been moving from strength to strength over the past few of weeks and are proving to be serious contenders as we edge towards the pointy end of the season. For Golden Grove on the other hand, 2020 has been a tumultuous season, as they have been unable to get a win on the board; unfortunately, this week saw much of the same theme as Grove were only able to slot one through the big sticks. The final score sat at 52 to seven Morphies way, but this '52' consisted of six goals 16 points. I can't help but wonder what kind of blow-out we would have seen if Morphies further capitalised on their scoring shots – an area of their game which may limit their success against other top-order sides like SMOSH and Payneham in finals.
To continued reading please click here to download.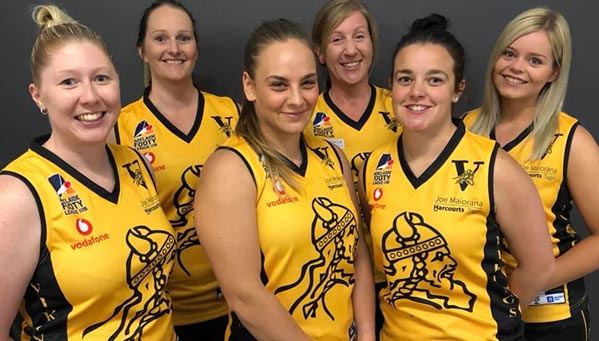 Division 2
By Gabrielle Torpey
Eastern Park vs Happy Valley
Happy Valley Vikings absolutely destroyed Eastern Park Demons Saturday afternoon at Eastern Park Football Club. Eastern Park flatlined the entire game which makes it four out of five rounds of no scores. Not surprisingly, they are at the bottom of the ladder and with scores as low as they have been, it is unlikely that they will make significant progress for the rest of the season. Meanwhile Happy Valley kicked 34 goals and 22 points leaving them with the total of 226 points. The Vikings have had a four round winning streak (They had a bye in round 4) which means their position on the top of the ladder is unmoving. An amazing show of talent by leading goal kicker Jorja Hooper who kicked an amazing 13 goals for the Vikings while 12 other teammates collaboratively assisted with kicking the remaining goals. Sounds like they were having fun and taking it easy this round and sharing the ball around.
To continued reading please click here to download.

Division 3
By Georgie Evans
West Croydon vs Pulteney
Pulteney and West Croydon battled it out on Friday night under lights. Pulteney were confident going in having a big win last week over North Haven, whereas West Croydon were looking to get some momentum back after their Kenilworth loss. It was not West Croydon's day, as they went down to Pulteney 1.1 – 7 to 4.5 – 29. Pulteney hit West Croydon with some serious scoreboard pressure, as they had 9 scoring opportunities to West Croydon's 2 scoring shots. Pulteney shared the ball around a bit in front of goal, having 3 different goal scorers in I. Loftes goals, 2 C. Glover and N. Gittings. T. Forrest kicked the lone goal for West Croydon. Best players for Pulteney included the likes of L. Haysman, G. Osborne, H. Rawson and both K. Kittel and L. Kittel.
To continued reading please click here to download.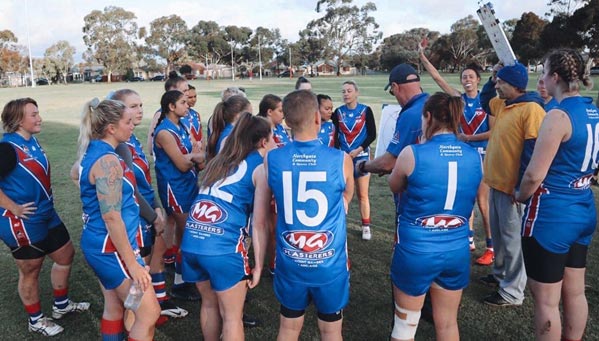 Division 4
By Jessica Phipps
Smithfield vs Mitcham
When Smithfield took on Mitcham Saturday morning fans were greeted with a tough, high-pressure, first quarter. By the end of the first, there was just a mere two points separating the teams and it seemed like a thrilling contest was on our hands. However, Mitcham thought different and came out in the second continuing to convert in front of goal, while keeping Smithfield scoreless. In a brilliant display of women's footy, Mitcham kept Smithfield scoreless across the final three quarters, meaning Smithfield's score of seven from the first quarter was their finishing total, with their only goal of the match coming from C. Walker. On the other hand, Mitcham finished on 26 points as goals came from P. Visvardis (2) and E. Betterman.
To continued reading please click here to download.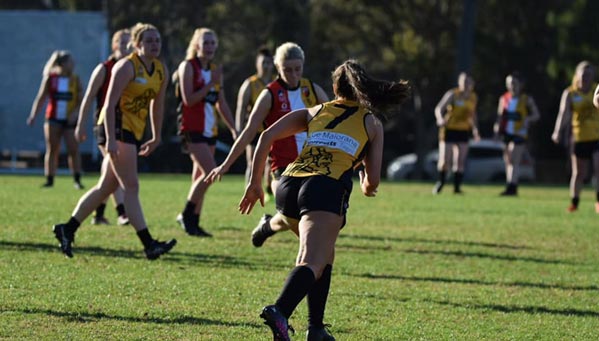 Division 5
By Iona McKenzie
Woodville South v Lockleys
Woodville South annihilated Lockleys this weekend at Eric Sutton Oval. Lockleys attempted to put on a defence, but the Woodville South team were determined to keep their winning streak alive. The Lockleys best players were E. Cunningham, P. Purdie, J. Searle, G. Brazenall, P. Simmons-Bartlett, C. Johanson. The Woodville South best players were E. Vitucci, E. Holt, N. Wall, T. McCulloch. The Awesome goal kickers for Woodville South were E. Vitucci, R. Birt, V. Petersen, N. Wall. Lockleys will need to have a big turn around in the season to make it to finals, but with their growing defence skills at play, hopefully they will see a win soon.
To continued reading please click here to download.